Last semester saw the retirement of Professor Richard Kuisel, who taught history courses including  "Collective Identities in 20th Century Europe" and the "Americanization of Europe" at the BMW Center for twenty years. Richard Kuisel is an expert on French history, and throughout his tenure, he was able to bring his first-hand experiences and a Franco-American perspective into his work.
In honor of Professor Kuisel's retirement, Dr. Justin Vaïsse, Director General of the Paris Peace Forum, gave a lecture reflecting on the history and essence of France and America as mirror images of each other. Dr. Vaïsse examined the history of the Franco-American relationship, and the two countries' fascination with one another. This reflection echoes Professor Kuisel's scholarship, throughout which he discussed the juxtaposition between the amity and simultaneous friction within the Franco-American relationship. 
Professor Kuisel also sat down for a conversation with MAGES alum Tommy Flanagan (Class of 2019) and current first-year student Emily Mayrand (2021) for  the Center's student-run podcast, The Europe Desk. He spoke about why he initially became interested in France, the transformative experience of his time living in France, and what it was like to be a professor during the 1960s. Notably, he remarked that his decision to teach Americanization to Georgetown students was to help them understand themselves as Americans by creating space for  a comparison between French and American ways of thinking. This unique approach was able to break through an isolated, self-interested rationale, and is what made Professor Kuisel's courses memorable for a great many BMW Center students. 
Professor Kuisel has published widely throughout his career. His work includes landmark books such The French Way: How France Embraced and Rejected American Values and Powers and Seducing the French: the Dilemma of Americanization. In these publications, he explored the themes discussed during Dr. Vaïsse's lectures, offered commentary on the changing Franco-American dynamic, and described the role that America has in how others perceive them, particularly through the lens of French perception. 
Professor Kuisel has been a favorite professor amongst Georgetown students; his first-person expertise, unique perspective, and dedication to his work offered much to think about in terms of the transatlantic relationship and he will be missed at the BMW Center.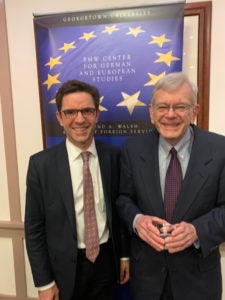 You can listen to The Europe Desk's conversations with Professor Richard Kuisel via the links below, or in your preferred podcast app.
Click here to read a transcript of the conversation. 
Why We Can't Trust the French: 
Click here to read a transcript of the conversation. 
Support for Justin Vaïsse's lecture came from the Michael C. Olshausen Lecture Fund and the French Embassy in the United States.