Student Opportunities
MAGES Final Colloquium
Each spring the Center sponsors the MAGES Final Colloquium to prepare MAGES students for participation in academic and professional conferences. Second year students present their Master's Projects to faculty and fellow students, while first year students serve as commentators. The Final Colloquium provides a valuable opportunity for creative interaction between students and faculty. It showcases the diversity of student academic interests, and highlights the interdisciplinary nature of the MAGES program.
The interdisciplinary nature of the MAGES program is made evident at the MAGES Colloquium by the vast array of project topics pursued by students. Past paper topics have included the following:
Selling Out: The EU's Marketing of Europe
Integration and Identity Construction: The European Union and the Stability Pact for South Eastern Europe
Alpinismus and Mental Geography: Mountain Landscape and Regional Resistance, 1870-1880
The German Citizenship Reform: Explaining the Debate and Its Outcome with Three Explanatory Factors
The European Union and Competitiveness in the Telecommunications Sector
The Impact of Corruption in Europe Innovation Policy in the European Union
The Center-Right in Germany and Austria: An Uncertain Future of the Post-National Consensus
The Hopper Award
The winner of the Jill A. Hopper Award is presented at the Colloquium. Created by MAGES alumni in memory of their classmate Jill Hopper (MAGES '96), the Award recognizes dedication to academic service and scholarship. Throughout her time at Georgetown, Jill maintained the highest standards for herself both inside and outside the classroom. Her commitment to academic excellence earned her the admiration of classmates as well as recognition within the broader academic community of scholars. Her talent for inspiring others to excel indelibly marked her class; her enthusiasm and optimism enlivened the Center. The Hopper Award celebrates her example and encourages others to aspire to the same high standards.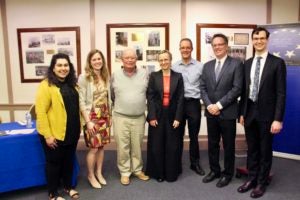 Past Hopper Award Recipients:
2022     Iris Thatcher
2021     Daniela Rojas Medina
2020     Alistair Somerville
2019     Tessa Coggio
2018     Ricky Bordelon
2017     Triet Pham
2016     Brent McDonnell
2015     Timothy Schmalz
2014     Emily Sieg
2013     Robert Mevissen
2012     Susan Fratzke
2011     Michael McKeon
2010     Halley Aelion
2009     Lindsay Pettingill
2008     Morgan Schupbach
2007     Jordan White
2006     Thrine Kane
2005     Sharyn Claffey
2004     A. Wess Mitchell
2003     Aspen Brinton
2002     Nathan Galer
2001     Allyson Kozal
2000     Alexander Merrow
Graduate Student Conference
Each February, MAGES students organize a Graduate Student Conference on a theme related to current events in Europe.
The Graduate Student Conference is generously supported by the BMW Center for German and European Studies, the CGES Alumni Association, the American Consortium on European Union Studies, and the German Academic Exchange Service (DAAD).