Internships
MAGES students complete high-level internships throughout their studies, developing gain valuable skills relevant to their career trajectories and broaden their networks. While many students complete an internship during the academic year at least once throughout their degree, nearly all students receive funding for an internship during the summer between their first and second years. First-year students may apply to spend their summer completing one of CGES's six Signature Internships, or they may prefer to find an opportunity uniquely fitting their personal career goals. To secure these internships, students receive assistance from MAGES alumni, CGES's Supervisor of Academic Programs, and the SFS Graduate Career Center.
Signature Internship Partners
The Signature Internship program gives CGES the opportunity to strengthen partnerships within the transatlantic community while giving our students access to top internship opportunities. The program provides employers with high quality graduate student interns annually; in turn, employers guarantee interns a valuable experience to enrich their professional and academic development.
The following partners reserve one internship for MAGES students each summer:
BMW North America in Washington, DC
BMW in Munich
Office of Defense Cooperation & the Egmont Royal Institute for International Relations in Brussels
UNESCO-IIEP in Paris
SAP in Berlin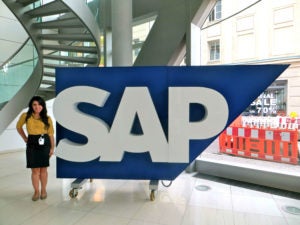 "During the three months of my internship, I published analyses on regulatory and procurement issues for IT companies and prepared briefings, letters, and speeches for SAP executives on topics including TTIP, data security, and tax policy. I learned a tremendous amount about current IT debates in Germany and the United States, IT and data policies in the EU and BRIC countries, and the overall structure of lobbying and government relations in the EU. Many of my briefings were used in high-level meetings between SAP board members and government officials. Although SAP is one of Germany's largest companies, I genuinely felt like I was a valued member of the team. I also established a lasting professional relationship with Caroline King, a MAGES alumna who was my supervisor during the internship."
– Jessica Pearson, MAGES '15