Study Abroad
Looking to enhance your MAGES degree with time spent studying in Europe?
CGES partners with the Hertie School in Berlin to provide select SFS students with the opportunity to spend the fall of their second year at the Hertie School. The Hertie School is a private international school of public policy located in Berlin Mitte. The working language at Hertie is English. During the exchange semester, SFS students will matriculate in Hertie's Master of International Affairs (MIA) program.
Up to five second-year students from the Walsh School of Foreign Service will have the opportunity to spend the fall semester (September through mid-December) at Hertie; students in the MAGES program will be given priority consideration. (Up to five students from Hertie will in turn study at Georgetown for the same term.)
Applications for the exchange are due in January of students' first year at Georgetown.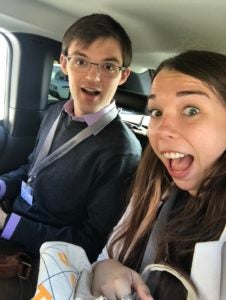 "In addition to my engaging courses in migration research and education policy, my exchange semester allowed me to take advantage of living in Berlin. My fellow MAGI and I attended a diverse series of interesting events, such as a lecture on European Monetary with the President of the European Central Bank Mario Draghi and the BMW Group Student Dialogues focused on urban mobility, where we got to test out a self-driving car (pictured at left)! Above all, my semester at Hertie allowed me to experience and start building relationships with people in the Berlin public policy sphere, which helped me build a foundation for working in the city after graduation."
– Sarah Lawton, Hertie Exchange Fall 2018